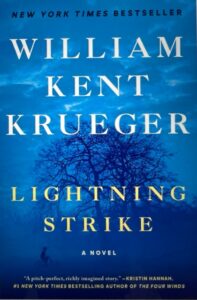 William Kent Krueger once again draws the reader into a world of nostalgic yesteryear, where a murder in small town Aurora, Minnesota will test the bond of a father and a son. It's 1963 and 12 year old Cork O'Connor is enjoying the hot summer days on the shores of Iron Lake. Cork's innocence is shattered when he discovers the body of  "Big John" a man he deeply respected hanging from a tree in a logging camp. Cork's father, Liam O'Connor happens to be the town's sheriff, and though the death has been ruled a suicide, there is evidence to investigate further. Cork is so shaken by Big John's death that he begins to look for answers himself.
This story deals with the social injustices that are born out of fear and prejudices from townspeople who see the Native Americans living on the reservation as a threat and are less valued as human beings. Trust is in short supply and it becomes increasing difficult and dangerous for both father and son to find the answers they are searching.
Krueger has captured the essence of what it means to feel a deep sense of honor in finding the truth, even when it comes with heartache and sadness. It is a tale about the lessons a father and son can teach each other. This is the second novel I've read by William Kent Krueger and I would highly recommend Lightening Strike.
Cheers!