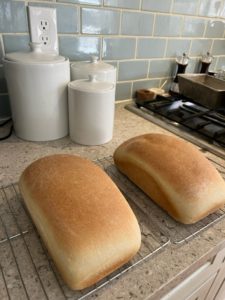 It took an ice storm in February for me to find the perseverance, strength, and courage to bake bread. Okay, maybe I'm being a tad dramatic, but to be honest, I've always been intimidated by the thought of tackling bread making. It appeared to be beyond my culinary skills. I think of myself as a fair baker, but mastering this process would take time and patience, two things I've had in short supply. However, on this icy cold February morning, I found myself stuck. With no place to go and a weather report that assured lockdown, I decided to make the most of the day and challenge myself. Bread making became my goal.
I had to make sure I had enough ingredients to begin this little project. Surprisingly, I did have packets of yeast on hand that had not expired. I also had plenty of flour, lots and lots of flour. I'm going to give everyone full disclosure. I tried three recipes. With the first try, the bread tasted good, just didn't look great. The second, I dumped the gloppy mess, a total disaster.  The third try, BINGO! Winner, winner!
I feel confident that this recipe I've attached will allow you to achieve bread ecstasy. It's a simple recipe that doesn't need a Kitchenaid mixer or any other fancy appliance. Just be willing to put your arm muscles to good use. Kneading this loaf is actually therapeutic. I also used all purpose flour instead of bread flour and it turned out perfect. My bread not only looked gorgeous, but tasted divine. I assure you that you too can bake bread! Just follow the recipe attached. Take the challenge and send me a picture of your loaf on Facebook, Instagram, or Twitter. One more thing, have butter and jam ready as soon as that fresh baked loaf of heaven comes out of the oven. You're going to love it.
Happy baking!
Cheers