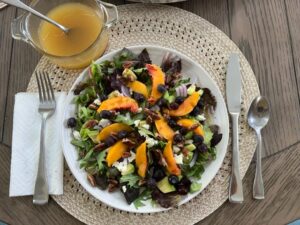 I guarantee you will LOVE this salad. The trick is to use fresh peaches, high quality honey, and ripe avocados. The dressing alone is to die for!
Salad:
6 cups spring mix lettuce
3 fresh peaches sliced
1 cup fresh blueberries
1 ripe avocado
1/2 cup crumbled feta cheese
1/2 red onion – diced or sliced in short strips
1 cup chopped pecans
Dressing:
1/2 cup olive oil
1/3 cup honey
2 Tbsp. apple cider vinegar
2 Tbsp. lemon juice
1 tsp. dijon mustard
1/2 tsp. salt (but I usually skip).
Add all of the salad ingredients to a bowl, drizzle the dressing on top and toss to mix. Then savor every bite!
Enjoy and You're Welcome!